Introduction:
This is a review of Canna-Pet's CBD dog treats.  I have personally been using these biscuits for a few years now.  You can read my personal experience with them below.
This post contains affiliate links. If you use these links to buy something we may earn a commission. Click here for more information. Thanks.
Product Name: Canna-Pet Organic Biscuits
Product Overview
CBD has become a huge industry.  There are so many companies and products available now that it's hard to make sense of everything.  If you look at the options of CBD for humans, there are so many choices and so much information available.  Some people eat gummies while others use capsules or oils, or other delivery methods  There are over 3000 brands now offering different products in the various forms.
The CBD pet industry represents a small percentage of all CBD sales, but it is growing and it's growing fast.  There are new companies developing CBD products as well as established companies adding CBD to their product line. (Purina may be adding a CBD option.)
Canna-Pet has been in the business of offering CBD products for pets since 2015.  They claim to be the inventors of CBD and hemp nutrition for pets.  They also claim to have close to 30 years of careful research that supported the development of the products they offer today.  Canna-Pet has gotten feedback from scientists, medical researchers, and veterinarians that has helped refine the formula.  Over 100 businesses (a combination of vet clinics and retail establishments) carry Canna-Pet. Many veterinarians recommend Canna-Pet for their patients.
Canna-Pet only has a few options available so you're not overwhelmed by options.  For dogs, there are three types of product based on the delivery method.  Your pet may prefer a delivery method that another pet refuses. Each of Canna-Pet products contain a proprietary formulation that results in organic, natural products for your pet(s).  They have products lines for dogs, cats, and horses.  They even have a line of products called Assisi Botanicals that is advertised as a human product, but is identical to Canna-Pet formulations.  The reason for this is that their capsules and liquid are formulated for all mammals.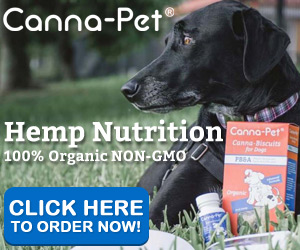 Focusing on the canine options, they offer:
Canna-Biscuits for dogs: Advanced Formula in 3 flavors
Canna-Biscuits for Dogs: Advanced Formula Max CBD in Maple Bacon flavor
Capsules: Canna-Pet Advanced Small & Large capsules (30 or 60 count)
Capsules: Canna-Pet Advanced MaxCBD
Canna-Pet Advanced MaxCBD Liquid
Packages of combinations of the above
Hemp Science for Dogs – Paperback Book
For cats, there are 4 products that overlap with what's offered for dogs.  They include capsules and liquid.
For horses, there is Canna-Pet Advanced MaxCBD liquid (120ml).  If a customer needs a bigger bottle, they have the option to contact Canna-Pet for other options.
My Personal Experience with Canna-Pet
I currently have an adult dog and a puppy.  A co-worker from a few years ago recommended that I try these biscuits for my dog.  He's an almost 90 pound rescue and he began having a lot of anxiety when it stormed.  To be fair, we had moved to Florida and the storms are almost daily in the summer and the thunder was a lot louder than it had been when we lived in Missouri.  We tried the thunder coat but it wasn't enough for him.  I was open to suggestions so I purchased a 3 box variety pack.
We started out giving him the recommended 3 biscuits prior to storms if we knew they were coming.  He still wanted to be close to us but he wasn't shaking anymore.  We still give the biscuits any time there's a storm or something that may cause him anxiety.  They have helped so much.
The other time we tried the biscuits was when we went to the vet.  He was horrible at the vet.  He won't let anybody touch him, especially his head.  There was one time it took 5 people to get an IV done so he could get his teeth cleaned.
After having so much success with the biscuits during storm, we decided we should try them when he needed to go into the vet again.  It was like having a completely different dog.  The vet we saw was amazed with his mild temperament.  I cannot say enough about how much this means to us.  We used to be terrified of taking him to the vet.  It is so much easier now.
The other benefit from these biscuits and mild-mannered dog is that we don't have to be in the room with him which has been huge during this pandemic.
CBD is safe for puppies but you should always talk to your vet about why you want to give CBD to your puppy.  Some conditions that you might see are common quirks to growing puppies.  You don't want to diagnose your puppy and start giving CBD the next day.
We are going to speak with our vet about our puppy who was recently diagnosed with patella luxation.  She is currently on anti-inflammatory medicine but I would much rather use something more natural. I've been told she's not in pain but it could cause problems in the future.  I'd like to try something more natural until we decide what to do.
***You should always talk to your vet before giving your dog any form of CBD***
The Good & the Bad
The Good:
1.  Products are recommended and carried by a number of veterinarians
2. Products do not just contain "CBD" but also dozens of additional cannabinoids and terpenes
3. Products have been studied by major universities and major veterinary journals
4.  Products may be covered by major pet insurers
The Bad:
1. If you're using the biscuits, it is not immediate if you're using them for anxiety during storms, fourth of July, or other times your dog may have anxiety.  You just need to remember to give your dog the correct amount of biscuits prior to the event
2. The box of biscuits doesn't last long when you have a big dog since they are made for all sizes of dogs.
3. Using biscuits is not as cost effective as the liquid would be.
Who is Canna-Pet for?
Canna-Pet is for every dog owner who wants to relieve or lessen the side effects of an ailment that their dog or cat has.  The biscuits are great for as needed treatment of anxiety.
Are there Tools & Training for Canna-Pet?
There is a book available on the website that is available for purchase.  It is titled "Hemp Science for Dogs – Paperback book"
Canna-Pet's website and blog offer a vast amount of knowledge based on breeds and ailments along with many other topics.
Does the company offer support? Is there a support system?
There is a contact page on the website. They claim to respond within a few hours.
Canna-Pet Pricing
Canna-Pet capsules range from $29.99 – $119.99 based on how many capsules, what size they are, and formula.
Canna-Pet Advanced MaxCBD Liquid: $99.99
Canna-Pet Biscuits: $16.99 per advanced formula box, $38.99 per advanced MaxCBD box. $39.99 for a 3 pack of the advanced formula box
There are packages available that include capsules and biscuits, capsules and liquid
Summary of Canna-Pet
Final Overview:
Product Name: Canna-Biscuits for Dogs: Advanced Formula (Any individual flavor or variety pack)
Product Website: canna-pet.com
Owners: Privately Owned
Price: $16.99 – $99.99 for individual products. Packages may be more depending on what is included
Overall: 9 /10 stars
Conclusion:
I personally recommend Canna-Pet biscuits.  They have given my dog the ability to get through loud storms and remain calm when we know he'll have anxiety about something.
Have you tried CBD for your dog?  What delivery method works for you?